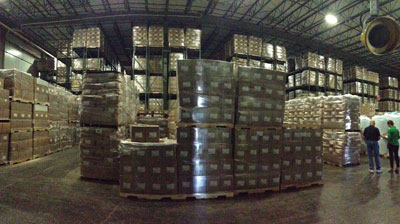 Food grade warehouses require strict standards to ensure health and safety for the consumer of your product. When you are selecting a food grade warehousing partner for your products, it is important to be aware of these standards and what your 3PL is doing to meet and exceed them.
Not all warehouses can be a food grade warehouse. It requires constant monitoring and a specialization that can be difficult to maintain. Diversified Entities is a Merieux Nutrisciences Certified food grade warehouse.  Merieux Nutrisciences is the leading internationally accredited provider of food safety, quality and nutrition services with locations in 16 countries.  They are dedicated to helping companies worldwide find practical solutions to today's food safety and quality challenges throughout the supply chain (www.merieuxnutrisciences.com).
A food grade warehouse can be a food storage facility of any size, storing any amount of food for either long or short periods of time.  The majority of food grade warehousing facilities adhere to the key requirements for Good Manufacturing Practices, or GMP, as well as Good Hygiene Practices (GHP) and Hazard Analysis Critical Control Point (HAACP). These practices are implemented to ensure a high level of quality assurance.
At every stage of the handling process your food grade storage warehouse must maintain quality assurance and detailed standard operating procedures (SOP). There are four critical Principles for Food Grade Warehouses:
1. Pest Control
2. Master Sanitation Schedule
3. Personal Hygiene and Training Program
4. Lot Traceability
These food grade practices allow for any defects to be reported so that action can be taken to prevent contaminated food products from reaching the consumer.
Diversified Entities, LLC is a Merieux Nutrisciences Certified, Chicago Food Grade warehouse provider, Established in 2003 Diversified Entities, LLC has provided 3PL solutions to local and national companies needing Chicago food grade warehousing and other services.
DE offers over 450,000 square feet of Chicago warehouse space, 75,000 refrigerated, 67 outside dock doors, and 15 rail side doors.  DE can provide the proper warehousing inventory management and distribution services required by today's global organizations.  If storage is critical to your organization DE has the warehouse facility and solutions to handle your needs.
For additional information on DE's warehouse in Chicago go to www.div-ent.com.
Social Share